Canvas Print

 Description

Tribal Abstract Blue by Nikki Chu canvas art arrives ready to hang, with hanging accessories included and no additional framing required. Every canvas print is hand-crafted in the USA, made on-demand at iCanvas and expertly stretched around 100% North American Pine wood stretcher bars. We only use industry leading archival UltraChrome® Giclée inks to achieve the most vivid and high-definition prints possible.
Canvas Print Framing Options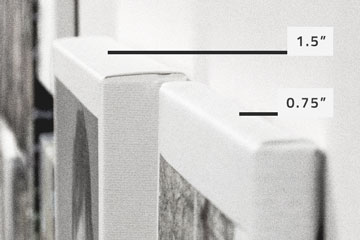 All of our artwork comes gallery wrapped.  The image is stretched around the sides and stapled to the back of the wooden frame.  Your piece of art will be ready to hang, and will include an easy-to-use hanging kit.
Recipe for a Great Canvas Print
Our product receives the same care & craftsmanship that goes into an original piece of art
1) It Starts With A High-Quality Image
Our team of designers carefully review each piece of art for high-quality resolution
Resolution on canvas is only as good as the quality of the image.
  If the original image is terrible, then there is nothing our high-quality techniques can fix.  Think of this as watching a VHS on your HD TV. Your HD TV is primed to deliver the absolutely best viewing experience, but the quality of the image produced on VHS will never be able to render HD quality.
2) Use Only Premium Ingredients

Our materials ensure your piece will look as good in 10 years as it did the first day you hung it up
The Canvas: We use poly-cotton canvas to secure the advantages of both polyester and cotton. As a result, our canvas is able to absorb and hold color as a cotton canvas would, but still delivers the sharp, vibrant finish of a polyester canvas. This allows your canvas print to withstand the test of time and still look like it did the first day you hung it on the wall.
The Ink: During the the printing process, our ink is just as important as the canvas it is printed on. We use high quality, fade and water-resistant Epson ink.
The Stretcher Bars: We use kiln dried North American Pine that is finger spliced. This process removes all of the moisture from the sturdy wood, preventing it from shrinking. Finger spliced wood allows the frame to keep its straight shape over time, since frames made from continuous lumber tend to curve when hung on a wall over time.
3) Own Every Stage of Production
We print, hand-stretch and assemble all our pieces at our facility

The Personal Touch: This is the only way we can be sure to deliver on the highest standards of quality and add a personal touch that is distinctively Getpaintbynumber.  We do all of this because we are passionate about art and the relationship our customers have with our product.